Hi all,
Just back from a trip to Michigan, mom had to move into a senior care community. It was a week of sorting stuff, packing and moving boxes, etc etc. At the end of it my brother let me borrow his accordion (he hadn't played it in years, had to dig it out of the basement).
So I did an impromptu little concert for the old folks in her building. Played for about an hour. And there was dancing!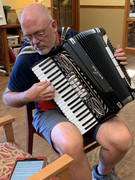 It was great to see people light up and smile, and I had a good time too!
When I was a kid I was in an all-accordion band, and every weekend we'd spend our Sunday afternoons playing concerts at the various nursing homes in the area. Did that for years. This brought back a lot of memories of those days.